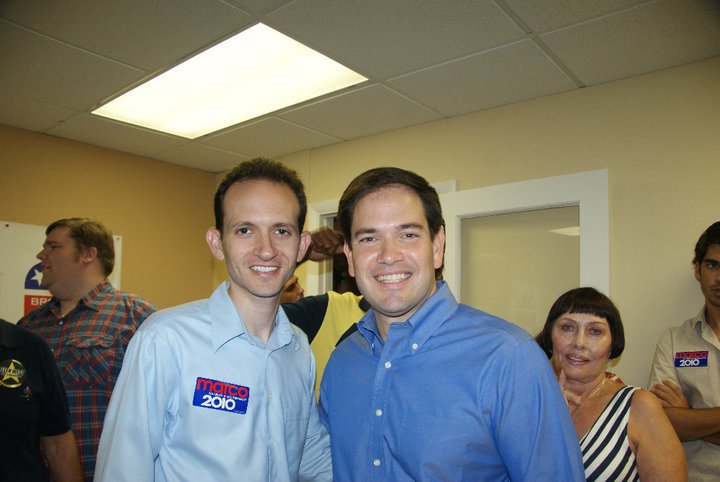 Today, September 25, 2010, Richard DeNapoli, Treasurer of the Broward Republican Party, had the pleasure of attending the Marco Rubio rally breakfast in Coral Springs. Richard, along with other volunteers, made hundreds of calls on behalf of Marco Rubio's campaign.  Richard previously attended the Reclaim America Town Hall on July 31 in Fort Lauderdale featuring Marco Rubio and Eric Cantor.  Richard is proud to support Marco Rubio, the Republican nominee in this November's General Election.  Marco is the Republican nominee against former Republican Governor Charlie Crist, who is running as an independent, and Kendrick Meek, the Democrat nominee, in the November 2010 General Election.
RICHARD DENAPOLI'S
MORE THAN 10-YEAR COMMITMENT
TO REPUBLICAN & CONSERVATIVE CAUSES
ENERGY & ENTHUSIASM
LEADERSHIP BY EXAMPLE
Fellow BREC Member,
As we approach election day on Monday, December 6th, I wanted to share with you my Volunteer Resume. I have been committed to our party and the conservative cause as aGrassroots Volunteer & Activist for more than 10 years in New York and Florida, and look forward to serving you as your Chair.
Colleen Stolberg and I have the experience, grassroots commitment, and longevity in the BREC to truly make a positive impact. See below after the Volunteer Resume how Colleen and I have worked to implement our Eight Point Platform for the Almost Eight Hundred Precincts in Broward.Colleen and I will work with all of you to make our Executive Committee stronger. We humbly ask for your vote on December 6th.Thank you,Richard DeNapoli
Richard DeNapoli's Republican, Conservative, and Business Resume
1995 – 1999 – Active in College Republicans
1999 – Leadership Institute "training conservative leaders" Youth Leadership School Attendee
1999 – Earned Bachelor's Degree, NYU, Majors: Politics, Italian
2000 – Mayor Giuliani's Legal Counsel's Office; Volunteer for President Bush, local Republican State Senator, and the Rick Lazio for Senate Campaign; Poll watcher; Featured on ABC News during the 2000 Election Recount as a law student supporting Bush
2001 – Legal intern for the Center for the Community Interest, wrote briefs in support of Giuliani administration reforms
2001 – Political Consultant for Republican Campaign for New York City Council
2002 – Volunteer for Republican New York State C
ontroller candidate
2002 – Earned Law Degree, Fordham
2003 – Returned to Florida to care for my elderly grandparents, opened Law Offices of Richard DeNapoli, specializing in Real Estate, Wills, Trusts
2003-2004 – Political Consultant, January Special Election District 91, became involved in BREC
2003 – Joined Broward County Young Republicans
2004 – Volunteer, President Bush, Broward County
2006 – Volunteer, Brenda Lynn Di Ioia for County Judge
2006 – Volunteer, Charlie Crist for Governor
2006 – Started getting more involved in our local Broward clubs
2006 – Began service on BREC Candidate Recruitment and Political Committees
2007 – Leadership Hollywood Class XXXI
2007 – Host Committee, BREC Lincoln Day Gala with Mayor Giuliani, the most financially successful Lincoln Day in recent times
2007 – Featured on ABC Nightly News for Real Estate Investing
2007 – Attendee RBN Campaign Management Training
2007 – Appointed to the Florida Real Estate Commission
2008 – Earned Master of Law Degree in Estate Planning, University of Miami
2008 – Accepted offer to join a Private Bank as a Trust Officer; closed my law practice
2008 – Volunteer, Giuliani Presidential Campaign; Volunteer, John McCain after primary – made thousands of calls from the Southeast Victory Office, contributed, attended events all over the county for John McCain.
I always support our Republican nominees.
2008 – Delegate, Republican National Convention
2009 – Speaker, January 2009 BREC Meeting. Gave extensive presentation regarding Election 2008 Results
2009 – Treasurer, Southeast Club; Treasurer, Broward County Young Republicans
2009 – BREC Lincoln Day with Newt Gingrich; Volunteer
2009 – Attended Tax Day Tea Party & July 4th Tea Party at Broward & Federal with other BREC members
2009 – Attended RPOF Statesman's Dinner in Orlando
2009 – Named to Broward County Political Leadership Team, Steering Committee, Bill McCollum for Governor
January 2010 – Speaker/Presenter at BREC Campaign School
March 2010 – Founded Republican Club of Greater Hollywood with other BREC members from around Broward County…speakers included Karen Harrington, Hollywood City Commissioner Patty Asseff, Hollywood City Commissioner Heidi O'Sheehan, Sheriff Al Lamberti, School Board Member Former Chair/Vice Chair Kevin Tynan, RNC Secretary/State & National Committeewoman Sharon Day, State Committeeman Ed Kennedy, Commissioner Chip LaMarca, Chair Cindy Guerra…grew club to 40 members in a couple of months
Spring through November 2010 –Attended Allen West functions, fundraisers, was on Allen West legal team
April 2010 – Attended Tax Day Tea Party Broward & Federal with other BREC members
May 2010 – Elected Treasurer of BREC. Total funds raised in 2010 after May 2010: $40,000. Funds raised in 2010 prior to May: $2,480.
June 2010 – Issued fundraising challenge at BREC meeting, matching any contributions personally up to $500.
July 2010 – Attended BREC Precinct Training, assisted in formulating program
July 2010 – Attended the Reclaim America Town Hall on July 31 in Fort Lauderdale featuring Marco Rubio and Eric Cantor
August 2010 – Co-sponsored and moderated the Congressional 20 Republican Candidates debate, with over 200 attendees. Pledged as a BREC Officer and a local club President not to endorse any candidate in the primary. Supported Republican nominee Karen Harrington after the primary. I always support our Republican nominees.
August 2010 – Attended Super Saturday Meet Marco Rubio at BREC Headquarters before the primary.
August 2010 – Attended Broward GOP Unity Breakfast after the August 24th Primary
August 2010 – I proudly supported Bill McCollum in the primary – my commitment to his campaign began prior to my time as BREC Treasurer…and when McCollum lost I proudly supported our Republican nominee and now Governor-Elect Rick Scott. I always support our Republican nominees.
August through November 2010 – Walked for George Moraitis after the primary. Served on Moraitis host committee for fundraiser.
August 2010 – Speaker/Presenter at RBN-sponsored Precinct Training session in Coral Springs
August 2010 – Helped set up the Northwest Victory Office, setting up computers, furniture, etc.
September 2010 – Attended the Breakfast with Marco Rubio at the Northwest Victory Office
September 2010 – Organized and was a speaker/presenter at a precinct training session with State Committeeman Ed Kennedy at the Greater Hollywood Club
September 2010 – Attended Scott/Carroll Event at Dolphins Stadium
October 2010 – Walked for Allen West with other BREC members at the Tea Party Fort Lauderdale sponsored walk
October 2010 – Broward GOP Victory Dinner. Worked with Board to raise money for BREC's support of our local candidates. Raised about $20,000.
October 2010 – Phone banked at the Northwest Victory Office for all Republican Candidates
October 2010 – Walked precincts from the Northwest Victory Office for ALL Republican Candidates
October 2010 – Delivered supplies for precinct walking campaigns to the Southwest Victory Office
October 2010 – Provided precinct information to many of our members; provided information on Early Voting and Absentee Voting stats via facebook through Election Day
October 2010 – Phone-banked for all the Statewide candidates on numerous occasions from home and at victory offices
October 2010 – Helped make hundreds of signs at the Rick Scott headquarters
Early Voting – Election Day 2010 – Poll Watcher for Rick Scott and all statewide candidates during Early Voting and on Election Day
Election Eve 2010 – Placed approximately 200 signs around Hollywood and Hallandale Beach for Rick Scott
Election Night 2010 – Sponsored with my own funds the Broward GOP Election Night Victory Party…more than 100 attended.
Making calls at the Fort Lauderdale Victory Office
Getting ready for a precinct walk on 10-23-2010