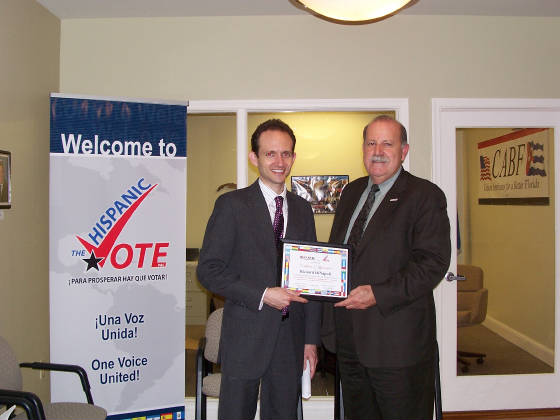 Richard DeNapoli Speaks to the Cuban Americans for a Better Florida Organization
"PARA PROSPERAR…HAY QUE VOTAR"
BREC CHAIRMAN, RICHARD DENAPOLI, SPEAKS TO LEADERS AT THE CUBAN AMERICANS FOR A BETTER FLORIDA ("CABF")/THE HISPANIC VOTE "(THV") MONTHLY LEADER'S MEETING
On October 25, 2012, the Cuban Americans for a Better Florida ("CABF") and The Hispanic Vote ("THV") held their Monthly Leader's Meeting. The special guest was Richard DeNapoli, Chairman of the Broward Republican Executive Committee. The presentation was informative and the attendees appreciated the information presented. Many local candidates attended and addressed the leaders of both organizations. The meeting was sponsored by the CABF. Thank you to the CABF Board of Directors, for sponsoring the food for this meeting.
###
From the Cuban Americans for a Better Florida Website:
CABF MISSION
Promote political issues through education, electoral awareness and financial support while fostering greater political involvement within the Hispanic community.
Promover temas politico a través de educación, conocimiento electoral y apoyo financiero mientras se promueve mas participación política de la comunidad Hispana.
————————————————————————————————-
The Cuban Americans for a Better Florida Political Action Committee (CABFPAC) was established in 2009, after a small group of civic minded Cuban/Americans came to the realization that Hispanics, in Broward County needed a voice.  We were formed as a non-partisan group, with members from all political parties and perspectives.  We are committed to empowering the Hispanic community, as a whole, by sharing our knowledge and experience in public policy debates at the local, county, and state level and where appropriate, assisting issues campaigns through education and financial support.
The CABFPAC has come a long way, since its inception in March of 2009.  Our members believe in our mission statement.  Although the CABFPAC was founded by Cuban/Americans, our doors are open to all Hispanics and anyone interested in helping us make a better community.  CABFPAC members meet monthly to discuss important public policy issues and to find ways to motivate and unite the Hispanic community in becoming better citizens.