Richard DeNapoli Makes Moves, Gets Support in House Race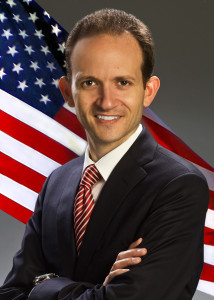 As suddenly as he jumped into a new county in a new district, Richard DeNapoli hopped into the race to replace Rep. Doug Holder in Florida House District 74 Monday, and he's already making waves and gaining support from GOP representatives across the state.
HD 74, which covers most of Sarasota County, will soon need a new representative because Holder faces term limits. Holder has served the district since 2007. DeNapoli, on the other hand, has been living across-state in Broward County.
Born and raised in Hollywood, DeNapoli left the Sunshine State briefly to attend Fordham Law School in New York City. He returned to South Florida to attend the University of Miami, where he received his master's degree in estate planning in 2008.
DeNapoli was appointed a commissioner in the Florida Real Estate Commission in 2007, and was reappointed and confirmed by the Florida Senate.
He stepped on the scene in Florida politics when he became treasurer of the Broward County Republican Party in 2010 and was later elected chair in December 2012. He became well-known as a strong Republican Party fundraiser, and has been lauded by conservatives for his work to boost party development and fundraise in Broward County.
Yet, despite his successes in the second-largest county in the state, DeNapoli packed his bags and left South Florida to move to Sarasota County with his family this year. He told Sunshine State News he moved to the west coast because it's "a beautiful place to live, work, and raise a family."
DeNapoli decided to get into the race after speaking with friends, family and people in the Sarasota community.
"I talked to a lot of local people," he said.
He said he not only brings experience, but focus to the race.
"I'm an attorney and a financial planner. I like focusing on results. We've got a lot of serious issues facing our state going forward," DeNapoli explained. "I think we need to maintain conservative principles that Governor Scott's administration is putting forward over the last few years. We need to keep Florida on that track."
Other state representatives have taken notice of DeNapoli's intentions to run and have jumped onboard to endorse him in the race for the Florida House. Rep. Ray Pilon, R-Sarasota, and Rep. George Moraitis, R-Fort Lauderdale, both had warm words of praise for DeNapoli and his conservative values.
"Richard DeNapoli is a true conservative who Sarasota residents can count on to keep Florida on the road to economic prosperity. He's an intelligent, common-sense conservative who won't back down from his principles," said Rep. Moraitis."Richard DeNapoli's experience in retirement security, financial planning, and Florida law make him well-suited to protect Florida's seniors and their issues in Tallahassee. He'd make a great partner to work with in Tallahassee when it comes to protecting Sarasota County and its citizens," Rep. Pilon said.
Click here to read the rest of this piece on Sunshine State News