As featured in BIZPACREVIEW.COM, August 6th, 2013
BY: Joe Saunders
Attorney, realtor and financial planner Richard DeNapoli is seeking the Republican nomination to replace term-limited state Rep. Doug Holder in House District 74.
DeNapoli, a former chairman of the Broward County Republican Party, announced his bid for the seat Monday. He will face physician Julio Gonzalez in the Republican primary.
DeNapoli is a Florida native who earned his law degree in 2002 at Fordham Law School and a master's degree in estate planning from the University of Miami School of Law in 2008. He is licensed to practice in Florida and the United States District Court for the Southern District of Florida, according to the release.
He has been a member of the Florida Real Estate Commission since 2007, including a stint as chairman in 2010-11.
In a news release, he said that experience gives him the background needed in the state House of Representatives.
"From property insurance to Medicaid and from education to pensions, Florida faces serious challenges that require methodical and thoughtful planning," DeNapoli said. "I've spent my entire career assisting moms, dads, seniors, and working Americans plan for the future.  I intend to use that experience to help meet the challenges facing Florida's future."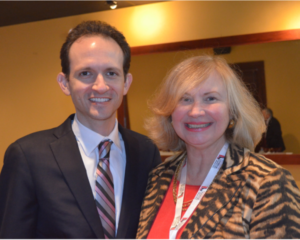 "My wife and I recently welcomed our first child into the world.  For his future, and the future of all Floridians, it is essential to continue the fight to keep Florida on the path to economic recovery by sticking to our conservative principles.  I look forward to engaging in a serious debate on the issues and am excited to launch this campaign."
So far, he's got the official backing of state Rep. Ray Pilon, R-Sarasota, and state Rep.  George Moraitis, R-Fort Lauderdale.
To read more of the full BIZPAC article, click here.