NEXT BREC MEETING
FEBRUARY 28, 2011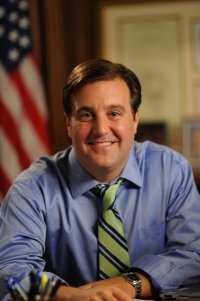 FEATURING ADAM HASNER
FMR. STATE REP. & MAJORITY LEADER OF THE FLORIDA HOUSE
More Announcements Below
January BREC Meeting Highlights.
We started off 2011 with a packed house of over 250 to hear our Keynote Speaker Fmr. Congressman E. Clay Shaw.    Thank you to Congressman Shaw and his wife Emilie!
Honored Guest speakers included Representative Matt Hudson, County Commissioner Chip LaMarca, US Senate Candidate Col. Mike McCalister, Ph.D., and Dr. Stephanie E. Haridopolis, MD, wife of Florida Senate President and US Senate Candidate Mike Haridopolis.
We also heard from our new Executive Director Rico Petrocelli and municipal candidates.
We officially launched our new website:  www.browardgop.org
and our very own blog, the Broward GOP Insider!
The following committees were created:  Registration, Fundraising, Communications, Newsletter, Hispanic Leadership Council, Campaign Logistics, African American Leadership Council, Faith Based Committee, and Membership Committee.
All in all, it was a great night and we are looking forward to a great 2011!
Wednesday, February 2nd – Congressman Allen West's Broward County District Office Grand Opening.  
Ribbon Cutting Ceremony at 6300 N.E. 1st Avenue, Ste. 100, Fort Lauderdale, FL at 5 PM.
Thursday, February 3rd – Ellyn Bogdanoff Fundraising Reception.  
Senator Ellyn Bogdanoff is having a Fundraising Reception as she kicks off the 2012 Campaign for Re-Election tot he Florida Senate.  110 Southeast 6th Street, 15th Floor, Ft. Lauderdale, FL 33301.  (Law Office of Tripp Scott, P.A.).  If you have any questions to to RSVP, contact Arielle Richardson at[email protected] or 954-767-9850. 
Thursday, February 3rd – The American Experiment: Where Do We Go from Here.
Come and see a Conservative v. Progressive Panel Discussion!  Heading up the Conservative team are BREC Member and Republican Business Network Board Member,David Gobeo; BREC Secretary and President of the Broward Young Republicans, Sheela Venero; and President of the Republican Club of Greater Hollywood, Robert Lowry.  7 to 9 PM at the Coral Springs Christian Academy, 2251 Riverside Drive, Coral Springs, FL.  Contact 954-729-9244 for more info.
and….
Message from Barbara Campbell, Fundraising Chair of the East Broward Federated Women's Republican Club:
"Our Annual Fashion Show is just around the corner…We would like you to advertise your business in our advertisement program….For those who do not have a business of their own or are not employed, we have our Complements of Page.  Remember every little bit helps.  This is our largest fund raiser of the year.  EBFWRC is very involved with working with the first and second grade students at Bennett Elementary School.  One of the high points of the year is the opportunity to provide each student with a book of their choice to take home and keep as well as a $500 teacher grant and journals and supplies at the beginning of the school year.  We also contribute the maximum amount to each Republican candidate.  Please contact Barbara Campbell at 954-566-9098 if you wish to advertise.  It's $15 for a Business Card, $30 Half Page, $60 Full Page, and $5 Complements of Page.
—————
All the best,
Richard DeNapoli, Chairman
Republican Party of Broward County
Political advertisement paid for and approved by the Broward Republican Executive Committee. Not authorized by any candidate or candidate's committee.
Original Email Date: February 1, 2011