Representatives Carlos Trujillo Endorses Republican Richard DeNapoli
Nokomis, FL – Today, businessman and Republican Party leader, Richard DeNapoli, today earned the endorsement of Representative Carlos Trujillo.
"Richard DeNapoli is ready to solve Florida's real problems. He will continue to inch our state economy toward economic recovery while protecting investments in programs benefiting seniors and our public education system."  Representative Trujillo stated.
Upon receiving the endorsement, Richard said, "Representative Trujillo is a leader that personifies the broad reach, depth, and experience in our party.  He is part of the next generation of Republican leaders and I am thrilled to have his support.  I look forward to working with him on common sense solutions to our most pressing needs."
###
You can read more about Richard at www.richardforflorida.com.
Like Richard on Facebook by clicking HERE.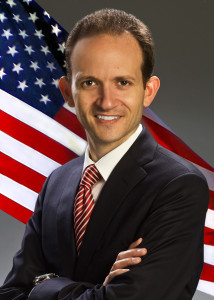 A native of Florida, Richard DeNapoli is a Licensed Attorney, Realtor, Mortgage Broker and Notary, Richard has also been successful in obtaining his CERTIFIED FINANCIAL PLANNER® certification.
He worked as a Trust and Investment Officer for five years at Northern Trust on a team with $1.8 Billion assets under management providing services to high net worth individuals.  Richard DeNapoli is a graduate of the University of Miami School of Law, Fordham Law School, and New York University. He is licensed to practice law in Florida and in the United States District Court for the Southern District of Florida. In 2007, Richard DeNapoli was appointed as a Commissioner to the Florida Real Estate Commission and subsequently reappointed when that term was up. Both of his appointments to the FREC were confirmed by the Florida Senate.
He was unanimously elected to serve as the Chairman of the Florida Real Estate Commission from 2010- 2011, and he continues to serve on the Commission today. Richard also served as the Treasurer of the Broward Republican Party in 2010, and then as Chairman of the Broward County Republican Party through December of 2012. Recently, Richard has been focusing on his professional career and on his family. Richard is married to Brigita, and they welcomed a new addition to their family, Victor DeNapoli, who was born in August 2012.
###
Political Advertisement Paid for and Approved by Richard DeNapoli, Republican, for Florida House, District 74.